Maryland Governor Larry Hogan meets with business leaders regarding Maryland's Business Climate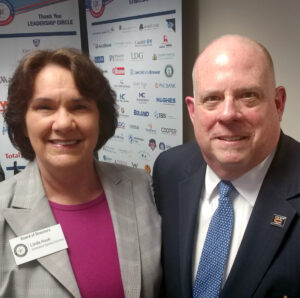 February 2020: The Montgomery County Chamber of Commerce (MCCC), of which our CEO Linda Houk is on the Board of Directors, hosted Maryland Governor Larry Hogan for a conversation regarding the Governor's policy priorities, as well as the current state of Maryland's business climate.  Attendees included business leaders from a cross-section of industries and sectors; topics discussed ranged from proposed tax increases and rollbacks of tax credits, the Governor's Traffic Relief Plan, and other issues impacting business leaders.
Our CEO addressed the State's support of training our military veterans to ensure their success in the federal marketplace.  Maryland provides funding for the Veteran Institute for Procurement, which is the brainchild of several members of the Chamber, and has grown from being focused on Maryland veterans to becoming a national veteran entrepreneur training program which now includes the support of the Small Business Administration (SBA).